Trash Can Cleaning Services for Your Home & Business
No one needs to tell you trash cans are dirty. Unfortunately, you can't avoid them forever. Whether you're depositing your full trash bags or toting those cans to the curb, you have to touch them eventually.
That's where GLEAM trash can cleaning services come in. Instead of just accepting the moldy, scummy, rotting state of your trash cans and recycling bins, you can now schedule regular cleanings to keep them in better condition. With GLEAM at your beck and call, your cans will gleam again. GLEAM Bin Cleaning & Pressure Washing Services provides trash can cleanings for the Lafayette, Moraga, and Orinda area.
Garbage Can Cleaning Services You Can Count On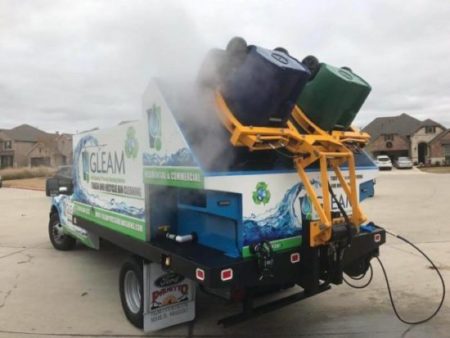 Have you ever driven through a residential neighborhood and thought to yourself, "Whew . . . must be trash day," even before you saw all those bins lined up at the curb?
That's because garbage cans stink, especially after regular use without washing. That smell really travels, and even when it's not out wafting around the streets, your cans are right there in your garage or on the side of your house, just waiting to seep that smell inside.
Debris and bacteria that build up in your can may cause more than bad odors, though — they can also make you and your family sick if you aren't careful. That's where GLEAM comes in — our trash can cleaning service aims to keep each and every one of your bins hygienic and less likely to carry harmful germs. We are environmentally-friendly and mobile, so our residential garbage can cleaning service requires you to do nothing but bring those bins outside as usual!
Trash Can Cleaning Services Keep Bins Sparkling
When you choose a garbage can cleaning service, you want to choose one that isn't doing more harm than good. While cleaning out your garbage cans is nice for your personal environment, you don't want to contribute to the degradation of the environment as a whole.
Good news: GLEAM's garbage can washing process is self-contained, which means we don't release dirty water or suds out into the street. We keep your bins clean, remove bacteria, pests, insect eggs, and food particles, and then we carry all that foulness away from your home and neighborhood for good.
Recycling Bin Cleaning to Protect the Earth with Pride
You already put a lot of time and effort into doing your part for Mother Earth, each and every time you rinse a can or a milk jug and make sure it gets into the recycling bin rather than the trash. But no matter how much rinsing you do, after a while, you still end up with that foul slurry at the bottom of your recycling bins. That's when you know it's time to call in the GLEAM recycling bin cleaning pros! Our natural solvents kill 99 percent of all germs, fungi, and viruses while being 100 percent EPA-compliant and environmentally friendly. To learn more about our services in Lafayette, Moraga, and Orinda, feel free to contact us.