About GLEAM Bin Cleaning & Pressure Washing Services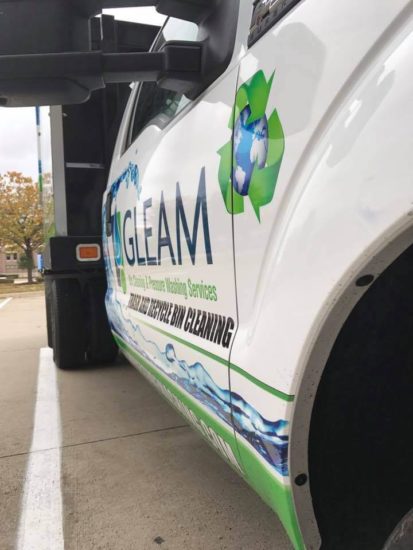 GLEAM was conceptualized and established by Andre P. van den Broeck. The company initially began serving customers in April 2017 in McKinney, TX. Since then, the company has grown to serve the Dallas/Fort Worth metroplex, Colorado Springs and Fort Collins, CO, and Atlanta, GA.
What We Do
GLEAM is a Dallas-based service company that simplifies customers lives by offering bundled property management services via subscription.  GLEAM currently offers bin cleaning, laundry, and pressure washing services to home and business owners alike.
GLEAM is a team of professionals who are committed to improving the health of communities and the lives of the people in them. This commitment, along with employing the largest fleet of their kind in the country, has catapulted them to the top of the industry.
Why We Do It
It started with an unfinished ice cream cone in a trash bin…in August.  After cleaning out the ensuing filth with a whole lot of bleach, water, and sweat, Andre knew that there must be a better way.  Only there wasn't…not yet at least. He saw that a unique opportunity existed in an untapped market. He saw the opportunity to not only relieve people of the chore of cleaning their bins without specialized equipment but also to help people keep themselves and the environment clean. Rather than waste water and let the dirty trash water linger and impact the environment, van den Broeck found a way to efficiently clean bins in a self-contained system that carries the dirty water away from public sewer system to facilities that were better equipped to handle gray water.  
About the Founder, Andre P. van den Broeck
van den Broeck was born an entrepreneur. He has owned marketing and ad agencies that have worked with brands from regional to Fortune 100 in size. It's this understanding of how to build a brand that has helped GLEAM become a name synonymous with pressure washing.
Andre P. van den Broeck lives in Celina, TX with his wife, two children (7 and 3), and two Great Danes. There's nothing he loves more than building brands and inspiring people.
GLEAM's Mission and Values
Our Mission: To give people more time to pursue their passion and lead a happier, healthier life
Our Values: 
Customer centricity – Focus on the customer and good things will follow
Entrepreneurship – Work hard, be resourceful, be passionate, be accountable, blaze trails, always be willing to learn, and constantly improve
Integrity – WIN, but not at the cost of your soul
Good citizenship – Always work hard to positively impact the community
Fun – Life is short, enjoy it!