Frequently Asked Questions About Trash Can Cleaning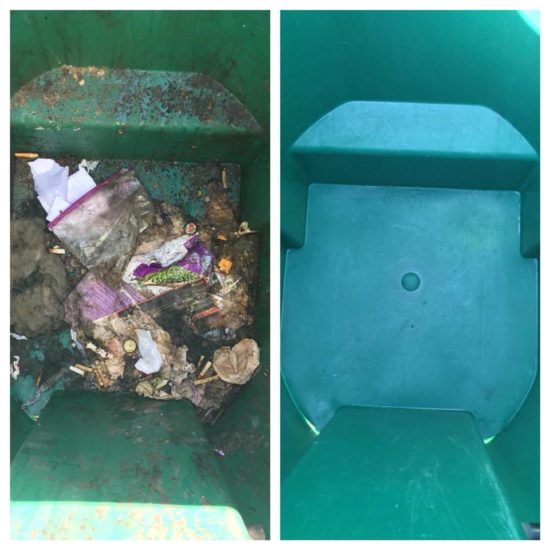 Q: Why should I have my trash bin professionally cleaned?
A: Just using a hose and bleach to clean your trash and recycle bins is not sufficient to remove or kill the bacteria and diseases that breed in your bins, such as:
Tuberculosis
Strep
Staph
E-Coli
Salmonella
Listeria
We not only clean your bins; we disinfect, sanitize, and deodorize them.
Q: How often should my trash and recycle bins be cleaned?
A: The majority of our customers opt for monthly cleanings, but you can choose the frequency that's right for you. CLICK HERE for Services and Pricing.
Q: How will I know that my bins have been cleaned?
A: In addition to your bins smelling and looking clean, we will place a small piece of tape that is easily removed to confirm that the container has been cleaned.
Q: When I returned home, I found that my trash can had been cleaned by GLEAM. I have not signed up for your service. Why did you do this?
A: As a random act of kindness, we'll occasionally clean all of the trash cans in a particular area free of charge. If you wish to continue with our service, simply sign up online or give us a call at 866-471-4450. You will not be charged for this first complementary trash bin cleaning. If you do not wish to use our service, please accept the free clean on us, and remember that the next time your trash can needs cleaning, you can give GLEAM a call!
Q: Sometimes I take my trash bins in early and don't leave them at the curbside. How will they be cleaned?
A: We ask that you leave your bins at your curbside. Once they are cleaned, we will place them back on the curb for you.
Q: When do you come to service my recycling bins and trash cans?
A: The vast majority of the time, we come in behind your local trash and recycling pick-up services. If your trash or recycling is picked up later in the day, or if there has been an interruption in service due to unforeseen circumstances (e.g., inclement weather), we ask that you leave your bins out overnight so that we can service them the next morning. For more information, read our full Terms and Conditions.
Q: Is there a minimum amount of months to which I have to commit?
A: Yes. For monthly and bi-monthly customers, there is a three (3) cleaning minimum, and for quarterly customers, there is a two (2) cleaning minimum.
Q: Do my bins need to be empty to receive service?
A: Yes. If we come to service your trash bins and they are not empty, we will have to come back at a later date.
Q: How do I sign up for your services?
A: CLICK HERE! We serve the cities in and around Dallas, TX, Colorado Springs, Co, and Acworth, GA.